I'll alert you to a new column at Bookslut in the next day or two, delving into the mysterious metropolis that is Bangkok. Apparently there are some minor technical issues ("that end with me spending hours on the phone pretending to the nice helpful tech guy that I know what the fuck he's saying," says Jessa). In the meantime, the chief Bookslut herself is rocking the mike at several events around Chicago through Monday. Check out the Blog for more details.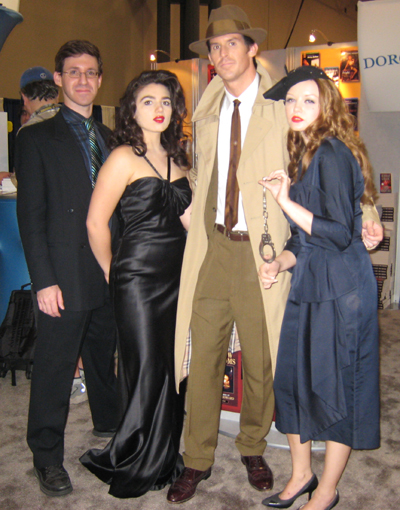 BookExpo America is over and done. I haven't read too many exciting reports from this year's show, so I'm not too piqued over not making it. So far, the most intriguing images have come from Hard Case Crime, where Charles Ardai apparently found a pair of dead-on 1940s vamps to breathe life into the pulp publisher's sensational covers. That's publisher Charles Ardai, gun moll Meredith Napolitano, actor James Huffman as the P.I., and Victoria Lee as a good girl gone wrong.

In other news, I neglected to post the Rocky Mountain News' summer reading special. My very cool editor Patti Thorn flogs several crime titles I've already perused, including books by Robert B. Parker, John Burdett, and Jeffrey Deaver. I briefly lay eyes on The Raw Shark Texts, The Spellman Files, Heyday, and Sacred Games. Um, beach books, all. I swear.

John Harvey has been awarded the Cartier Dagger Award for 2007. Sarah has the full roundup of this year's nominees.

Also, the Quill nominations are out, for you unsophisticated peasants who like that sort of thing. (I'm one of them. They may be the only organization who managed to figure out a way to give Christopher Moore an award). Besides the usual boring Oprah-anointed nominees, the Quills give props to Sissy Spacek's thoughtful reading of To Kill A Mockingbird, Bryan Talbot's Carrollian acid trip Alice in Sunderland, and Matt Beynon Rees' terrific detective story A Collaborator in Bethlehem.

There's a quick-and-dirty interview with transplanted Irish crime writer Adrian McKinty over at Crime Never Pays.
Finally, a hell of a lot of good guys died on this day in 1944. Take a moment to remember them. There are a few interesting recollections at
National Geographic
and the UK's
D-Day Museum
at Portsmouth.
And Crispin Crispian shall ne'er go by,
From this day to the ending of the world,
But we in it shall be remember'd;
We few, we happy few, we band of brothers;
For he to-day that sheds his blood with me
Shall be my brother; be he ne'er so vile,
This day shall gentle his condition:
And gentlemen in England now a-bed
Shall think themselves accursed they were not here,
And hold their manhoods cheap whiles any speaks
That fought with us upon Saint Crispin's day.